Bishamon-do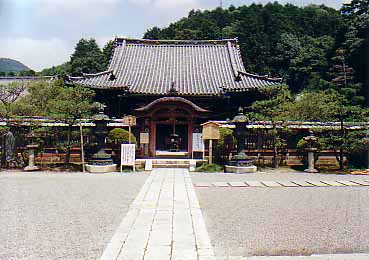 The front of the temple after coming through the main gates...peaceful, almost with the sense of it being abandoned. The entire temple area is covered in immaculately raked gravel (roll-over with mouse for sideview)
Hiking through the mountains near our apartment in Yamashina one is constantly reminded of all the treasures and history that lie far out of the Lonely Planet's path.
Such a place is Bishamon-do; a small Buddhist temple which has for generations been run by a line of abbotts of royal descent.
Rebuilt in the 1600's after having been laid to waste by the armies of Oda Nobunaga, the original Bishamon-do was built in the early 1100's.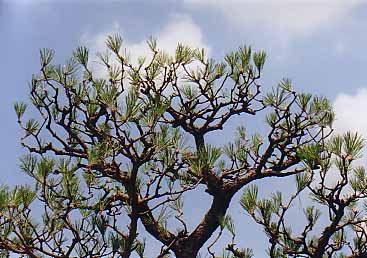 Like giant bonsai, the meticulously groomed trees within the temple grounds are a beautiful, yet subtle, compliment to the imposing architecture of the temple structures themselves.
It now lies nestled in at the feet of the mountains in Yamashina, nestled in amongst the trees and bamboo groves. One of thousands of temples that lie scattered throughout Kyoto, Bishamon-do's quiet charm and peaceful setting make it an ideal place to soak in a bit of history while enjoying some the city's natural beauty.
While I was there, some of the monks were tending to the ancient trees that line the front of the temple, and I was amazed to see one of them standing in amongst the branches as he pruned them. He seemed so comfortable, so confident, as he put all of his weight onto those delicate branches that were each and every one of them, I'm sure, older than Canada.
As I wound my way down the steep steps leading up to the temple gates, with the brassy echo of gongs fading into the hills around me, I thought once more how incredible it was that this was my neighbourhood.