Kinkaku-ji
The Golden Pavilion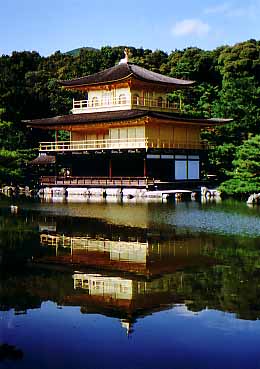 Kinkaku-ji Temple is widely considered one of the most breathtaking sights inKyoto, and is protected as one of the city's 17 UNSECO World Heritage Sites.
The Temple was built in the Kamakura period, which ran from 1185 to 1332, and was taken by retired Shogun Yoshimitsu in 1337 as his country villa. The temple was converted into a Zen temple in 1422 following Yoshimitsu's death.
Standing above an exquisitely designed garden is the famed pavilion itself, with its second and third floors entirely gilded in gold leaf. The result is a brilliant structure of shimmering gold which glows against the "borrowed scenery" of the mountains to the North.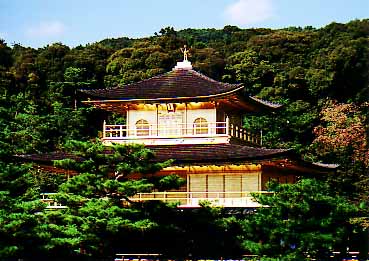 The most recent incident in Kinkaku-ji's long and tumultuous history involved a young monk who was an acolyte at the temple. The monk, whose steady decline into psychosis led him to become obsessed with the beauty of the temple, was convinced that he could never find peace so long as the temple continued to exist. He burned the Golden Pavilion to the ground in 1950. The building that stands today was completed in 1955, and was built precisely to the original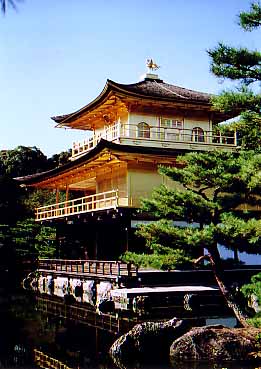 specifications.
Today, Kinkaku-ji is usually thronging with sightseers, and the grounds are often packed with legions of schoolchildren jostling for pictures.
>>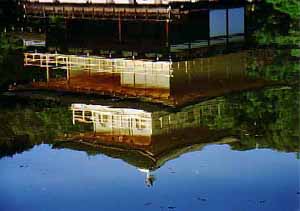 Despite the never ending crowds of tourists, Kinkaku-ji's enduring beauty mark it as a sight that must be seen to be believed. It is a shimmering reminder of the power and opulance of bygone rulers in a city that has had more than its share of wealthy lords, be they Shogun or Emperor.